Transportation Shocks Heading for Construction
Contractors and suppliers trying to get a handle on the cost of moving construction materials and equipment across the country took a double hit in recent days.


Crude oil futures on July 16 hit a new record approaching $140 per barrel, despite a promise by Saudi Arabia to boost production, according to the Associated Press.
Depending on where material is coming from, rail lines may no longer offer an alternative to the rising cost of moving material by truck. Rail lines across the country were already operating at capacity before disaster struck in Iowa. Rail shipments across that state have been virtually halted by washed-out track and the collapse of two major bridges, according to the Des
Moines Register.

The Union Pacific Railroad reported that both its north-south and east-west lines were out of service. The shutdown has implications for national traffic because the east-west line across Iowa is the railroad's main route from Chicago to the Pacific Coast. The Burlington Northern Santa Fe Railway also expects to lose its main east-west line when the Des Moines River flooding reaches Ottumwa, according to the newspaper.
The high cost of fuel has eclipsed Iraq as the second highest ranking issue on Gallup's monthly "Most Important Problem" list, after roughly tying Iraq at No. 2 in May, and ranking third prior to that. The 25% citing fuel and energy prices in June as the nation's top problem is up from 17% in May and 6% in January.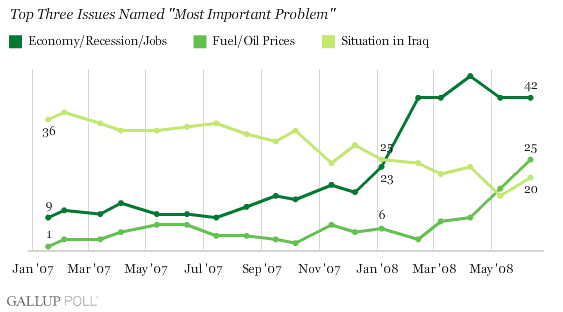 According to the June 9-12 Gallup Poll, the economy/jobs retains its position as No. 1, with the percentage of Americans citing the overall economic climate exceeding 40% for the fifth straight month. Top-of-mind concern about the Iraq conflict, now 20%, is down slightly from the start of the year, and is much lower than it was a year ago.